Are you passionate about addressing grand challenges in our society?
The Community-Academic Scholars Initiative empowers promising undergraduates to pursue community-based projects focused on health poverty or social inequity. . In this 10-week summer program, students will work closely with a faculty member and community organization as part of an existing collaboration. Community-Academic Scholars will help improve the lives of others while conducting scientific research, participating in a supportive community of other scholars, and receiving mentorship from a faculty advisor.
What kinds of research projects will a Community-Academic work on?
Projects must address any aspect of health poverty, or social inequality and involve at least one community organization and a faculty member. This includes research projects, program evaluations, needs assessments, or any other project that interests the organization and a faculty member. Collaborations may address issues such as:
Educational outreach

Food insecurity

Children/youth development

Criminal justice reform

Labor and employment relations

Housing and homelessness
How do I apply?
Visit the Community-Academic Scholars website for eligibility and program details. 
Questions? Email CSBScience@illinois.edu.
Faculty: If you have a potential project and would like to explore the opportunity for a scholar to help accelerate your work, please contact us to learn more. 
Hear from former Community-Academic Scholars:
Keziah Buabeng, a senior pursuing her degree in agricultural and consumer economics with a concentration in policy, international trade and development and a minor in communication, worked with Ken Salo, a clinical assistant professor in the Department of Urban and Regional Planning, and Cunningham Township Supervisor Danielle Chynoweth, on efforts to address increased numbers of community members who are experiencing food insecurity due to COVID-19.
Erinn Dady, a junior studying earth, society, and environmental sustainability, worked with Kevin Tan, an assistant professor of social work, Esther Ngumbi, an assistant professor of entomology, and Tracy Dace, Founder & Executive Director of Driven to Reach Excellence and Academic Achievement for Males (DREAAM), to assess the effects of the COVID-19 pandemic on students' educational, social, and emotional needs so that DREAAM can best support families in their program and in the community at large. She will also work on STEM curriculum for DREAAM to use in future programming.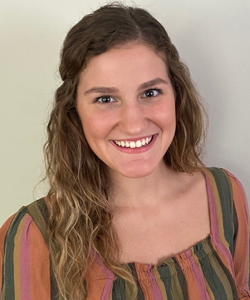 Sarah Jones, a junior majoring in speech and hearing science, worked with Raksha Mudar, an associate professor of speech and hearing science, and Margaret Danilovich, Senior Director, CJE SeniorLife, to introduce a video technology platform to economically disadvantaged older adults and to assess its effectiveness in delivering web-based social engagement.